Zorki S type 3d (1956) image by Süleyman Demir (Image rights)
Zorki S is a 35mm film rangefinder camera manufactured by KMZ, and produced between 1955-58, with quantity 473000. Зоркий C = Zorki S, "S" means "Sinchro".
It was a redesign of the Zorki 1, with altered top and with flash sync added. The Zorki 2S was a Zorki S with a self-timer added.
There are 8 types and 7 sub-types of Zorki S [1]
Zorki S type 3d (1956) Images by Süleyman Demir (Image rights)
Some features
Edit
Lens: Industar-50 50mm f/3.5 (ИНДУСТАР) collapsable

Lens mount: M39 screw
Aperture: f/3.5 - f/16, setting: ring and scale on front of the lens
Focus range: 1.2-20m +inf
Other standard lens is Industar-22, 50mm f/3.5

Shutter: focal-plane double cloth shutter, horizontaly moving
Speeds: 1/25-1/500 +B [2]
Focusing lever locks on infinity
Winding knob: also cocks the shutter
Frame counter: decreasing type, manual reset, beneath the cocking knob
Viewfinder: simple reverse telescope finder, eye-piece on the right of the rangefinder eyepiece
Rangefinder: eye-piece is on the back left side of the top plate, yellow rangefinder images, very small
Re-wind release: turn the shutter release knob to Л
Cold-shoe
Flash PC socket: on front of the camera
Tripod socket: 3/8"
Film loading: bottom loading, bottom plate opens by a pop-up lever on it,

Engravings around the opening ring: ЗAКР - ОTKP (Zakr-Otkr = Close-Open). ОTKP is an abbreviation for ОТКРЫТЫЙ

Take up spool: Special removable type
Body: metal; Weight: 509g
Serial no.first two digits show the production year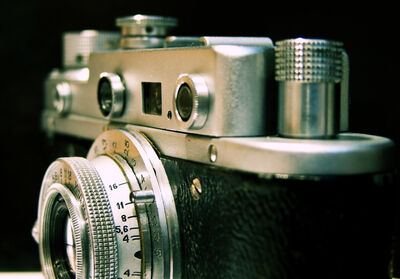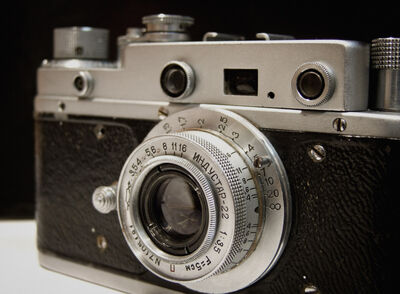 Notes and references
Edit
↑

As with other Soviet-era rangefinders, the shutter speed selector rotates when the shutter is released, and should not be changed until after the shutter has been cocked. If you change the shutter speed without cocking the shutter first, the setting pin can be broken when you advance the film and cock the shutter.
Community content is available under
GFDL
unless otherwise noted.