Zorki 11 type 3b (export type) 1966 image by Süleyman Demir (Image rights)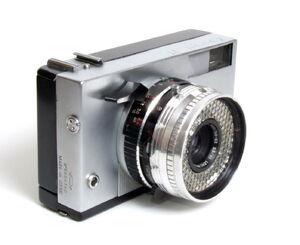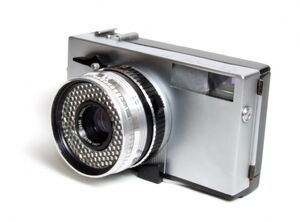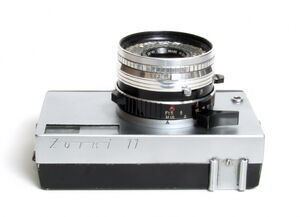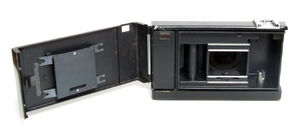 Zorki 11 is a 35mm film fully automatic viewfinder camera made by KMZ and poduced between 1964-67 with quantity of 60.745 units. Zorki means Sharp Sight.
Zorki 11 belongs to the Zorki Automat series. There are 4 types and one sub-type of the camera. [1]
The Zorki 11 is a Zorki 10 without the coupled rangefinder mechanism, but with distance symbols visible in the viewfinder. It resembles closely to Ricoh Auto 35V/Ricohmatic 35.
Engraving on the top plate: Zorki 11
Lens: Industar-63 45mm f/2.8 filter thread 52mm

Aperture: up to f/22 setting: Automatic, manual is possible, scale and lever on the lens
Focus range: 1.5-10m +inf

Focusing: manual helicoid; ring, distance scale with symbols and DOF scale on the lens-shutter barrel, w/ handles for easy using
Shutter: Between the lens diaphragm, with adder-mechanism automatically sets diaphragm and exposure time depending on the set film sensitivity and brightness of the object to be photographed; automatic setting lever should always be set against the index A, on the lens, except B mode

Speeds: in automatic mode 1/30 -1/500, in manual mode 1/30, and B
Setting: automatic; B sets with a lever on the lens-shutter barrel

Shutter release: press as far as it goes, on the lens-shutter barrel,
Cocking lever: also winds the film, short stroke, on the bottom pate
Frame counter: auto-reset, additive type, on the bottom plate
Viewfinder: bright frame finder, parallax correction frames
Exposure meter: Selenium cell, auto exposure, around the lens

Exposure setting: fully automatic
Film speed range: 20-320 ASA; setting: ring and small window on the lens
Metering range: 8-18 EV

Re-wind knob: erects via turning the thumb wheel on it, on the bottom plate
Re-wind release: by a knob on the bottom plate
Flash PC socket: on front of the camera, set to X V lever to X on the lens-shutter barrel
Cold-shoe
Self-timer: via X V lever on the lens, set to V after cocking
Back cover: hinged, opens by a latch on the left of the bottom plate
Engraving on the left side: Made in USSR , KMZ logo and serieal no.
Tripod socket: 3/8", (there are cameras with ¼" tripod socket also )
Strap lugs: none
Body: metal; Weight: 659g
Serial no. First two digits show the manufacturing year
Community content is available under
GFDL
unless otherwise noted.