The Yashica Pentamatic, designed in 1959 and released during the Spring of 1960, was Yashicas first 35mm single lens reflex (SLR) camera. It is a mechanically-operated camera, equipped with a focal plane shutter with speeds of B to 1/1000th of a second. No built-in self timer and no TTL exposure metering. The Pentamatic utilized a proprietary bayonet mount that is not interchangeable with other mounts or the later Contax-Yashica (C/Y) bayonet mount. The camera was normally supplied with a 5.5cm f1.8 Auto Yashinon lens. The Pentamatic II was supplied with a 5.8cm f1.7 Auto Yashinon lens. The Pentamatic S went back to using the original 5.5cm f1.8 lens. The Pentamatic II came out in August 1960 and the S came out by January 1961. The Pentamatic used a focus spot microprism rather than the conventional split. It also had the benefit of a built-in shoulder flash shoe which has the benefit of reducing red eye in photos.
There were three camera variants:
The Pentamatic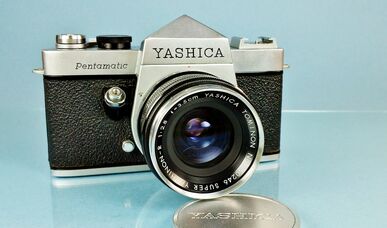 The Pentamatic II
The Pentamatic S
Community content is available under
GFDL
unless otherwise noted.