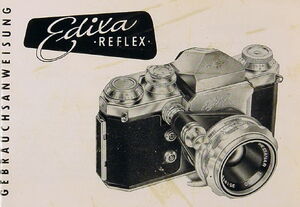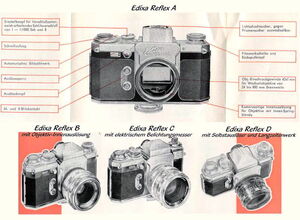 Edixa Reflex-A is a 35mm film SLR camera made by Wirgin and produced between 1954-60.
This model with 1/25-1/1000 shutter called Edixa Reflex Standard in 1956 catalogues. Model with 1-1/1000 shutter called Edixa Reflex II in catalogues 1966-58, then Edixa Reflex A. it was marked Edixa Reflex-A from 1959.
It has waist level or eye level finder, M42 screw mount, f/2.8 Isconar, Westenar or Cassar lens, focal plane shutter with speeds 1/25- or 1-1/1000. It was no internally coupled diaphragm control. [1]
See also the articles Wirgin Edixa series (SLR models) and Wirgin Edixa Reflex.
Notes and references
Edit
Community content is available under
GFDL
unless otherwise noted.