Edixa II c.1952, flat front plate image by Süleyman Demir (Image rights)
Edixa II is a 35mm film rangefinder camera manufactured by Wirgin Kamerawerk in Wiesbaden, former West Germany and produced between 1953-57.
The Edixa I and II cameras are renamed Edina cameras. The Wirgin Edixa I is the same body but a viewfinder camera.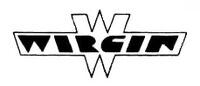 The most interesting part of the Edixas is the characteristic front plate, a metal part that is a mask for the shutter speed scale as well as depth-of-field scale and tube side stabilization element. This part helped to make the lens tube a little more robust than other constructions. This type front plate shows two versions, flat and cast front plates. Also, there are classical front plate versions, and some other cosmetic differences in the production times.
See also the article Wirgin Edixa series (viewfinder/rangefinder models).
Edixa II cast front plate image by David Broglin (Image rights)
Specifications
Edit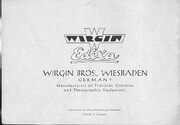 Data belongs to the camera in the photos.
Engraving on the top plate: Edixa ( II not marked)
Lens: Isco-Göttingen Isconar 43mm f/2.8, filter slip-on

Aperture: f/2.8-f/16
Focus range: 3.5-20 feet +inf

Focusing: match the coincidence line two half images separated horizontally in the rangefinder eyepice, the left small one on the back of the top plate, ring and scale on front of the lens, w/DOF scale
Shutter: Pronto speeds: 1/25-1/200 +B [1]

Setting: ring and speeds window on the lens shutter barrel

Shutter release: on the top plate, w/cable release socket, not works wo/ film in the camera
Cocking lever:long rapid lever, also winds the film, on the right of the top plate, double exposure prevention
Frame counter: manual reset, decreasing type, setting knob on the top plate, window on the back of the top plate
Viewfinder: reverse telescopic finder
Rangefinder coupled, but rangefinder and viewfinder eyepieces are separate, rangefinder shows a smaller split image
Re-wind knob: turns when winding, on the left of the top plate
Re-wind release: via asmall knob on the back of the top plate
Flash PC socket: on the lens-shutter barrel
Cold-shoe
Self-timer: lever on the lens-shutter barrel
Back cover: hinged, opens by a latch on the right side of the camera
Tripod socket: 1/4"
Body: metal; Weight:
Serial no. under the back cover opening latch
Notes and references
Edit
↑ There are many lens and shutter variations, like Steinheil Cassar 45mm f/3.5, Edinar 43mm f/2.8 lenses in Velio, Prontor-SVS or Prontor-S shutters
On Sylvain Halgand's Collection :
Community content is available under
GFDL
unless otherwise noted.