Vostok (Восток) is a large format view camera made by NPZ, in Novosibirsk, former USSR between 1948-51. [1]
The Vostok is one of the rarest Soviet cameras. It is probably a copy of the New Vue 4x5. A quality view camera, unfortunately discontinued because it was too expensive to make in 1948.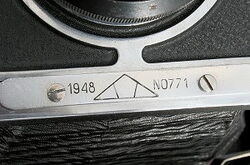 The year of manufacture, factory logo and serial number appear on the lower lens panel clip
Format: 9x12cm plate
Lenses: I-51 (Industar) 210mm f/4.5, Industar-11M 45cm f/9, interchangeable front lens board
Shutter: none
Focusing: on the groundglass, by means of a focusing knob located between two rails
Rotating back takes double sided film holders that can be loaded with either glass plates or sheet film
Back and front parts can all shifts, swings and tilts
The double dark-slide are made to take either glass plates or sheet film
Body: metal
Weight: 3,76kg
Community content is available under
GFDL
unless otherwise noted.