The Voskhod is a 35mm film viewfinder camera made by LOMO in the USSR between 1964 and 1968 [1].
Its earlier versions are marked in Cyrillic: Восход, meaning "sunrise" or "ascent" in Russian; later, export models are marked in Latin lettering.
Some very rare early models bear the LOOMP logo.
The design is far from conventional; the shutter-release is on the front; the fin-shaped plastic knob above the lens is the film advance lever. The button on the top-plate is for resetting the frame counter (which counts downwards towards zero). On the scale of Russian camera production, the Voskhod is comparatively uncommon, with around 59,000 made.
There are 5 types and 5 sub-types of the camera. [2]
Voskhod type 1c with LOOMP logo, 1965 image by Siim Vahur (Image rights)
Voskhod type 5 (export version) 1966 (Selenium cell was broken!) image by Süleyman Demir (Image rights)
Specifications
[
]
Data belongs to the export version.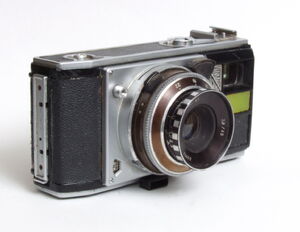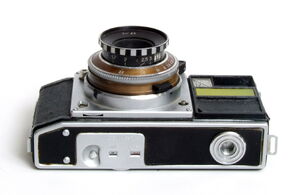 Lens: LOMO T-48 (Triplet) 45mm f/2.8, filter slip-on, serial no. none

Aperture: up to f/22 setting: ring and scale on the lens-shutter barrel
Focus range: 1-8m +inf,

Focusing: manual front cell; ring, distance scale with symbols and DOF scale on the lens
Shutter: leaf shutter; speeds: 1-1/250 +B; setting: ring and scale on the lens-shutter barrel
Shutter speeds and aperture numbers are linked together by means of mechanical coupling. When turning the apertures or shutter speeds rings, the other turns too. They can be turned separately by the pressing the knobs on the lens-shutter barrel
Shutter release: on the front plate, w/ cable release socket
Cocking lever:also winds the film, shark-fine like shape, on the lens-shutter barrel
Frame counter: manual reset, decreasing type, window on the top-plate
Viewfinder: Galileo type bright frame finder w/ parallax correction lines
Exposure meter:coupled built-in Selenium cell meter
Film speed range: 12-26 DIN, 11-250 GOST, setting: by a thumb ring and windows on the bottom plate
Exposure setting: after setting the shutter speed or aperture, check the needle in the viewfinder, it must be on the middle of the lower bright line, if not, turn the aperture-speeds rings to find the correct exposure
Re-wind lever: folding crank, on the top-plate
Re-wind release: on the bottom plate
Flash PC socket: on the front plate
Cold-shoe
Memory dial : small window and thumb lever on the front plate, with Cyrillic characters
Self-timer: none
Back cover: hinged, opens by a latch on the left side of the camera
Engraving on the back cover: Made in USSR
Tripod socket: 3/8"
Strap lugs
Body: metal; Weight: 690g
Serial no. in the camera, first two letters show the production year
Notes and references
[
]
Links
[
]