Voigtländer Vito CL Standard first model image by Alf Sigaro  (Image rights)
See also the article Voigtländer Vito C.
Vito CL is a 35mm film viewfinder camera made by Voigtländer and produced between 1961-67. It is in the Vito C series.[1]

Its specifications are similar with Vito C except the coupled light meter.
All of the Vito C series models, were sold as Standard or Deluxe models. Differences between standard and de luxe models are cosmetic, like leatherette covered lens barrel, black shutter release, raised chrome name, film reminder disc with leather in the center.
There are three models of the Vito CL [2]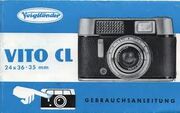 *First Model: 1960, Coupled Selenium cell lightmeter, needle visible on top, ccessory shoe fitted into the top housing
Second Model: 1962, protruding accessory shoe
Third Model: 1963, meter needle visible on top and in finder, protruding accessory shoe, top housing taller than earlier models.
Vito CL Deluxe third model image by Süleyman Demir (Image rights)
Vito CL models were offered various lens/shutter combinatioons, like Color-Lanthar or Color-Scopar 50mm f/2.8 lenses in Pronto LK, or Prontor 500 LK shutters.
The C series round-ended body style was produced between 1960 & 1967, after which a square-ended body was made.
Data belongs to the Vito CL Deluxe third model
Lense: Color-Scopar 50mm f/2.8, filter slip-on

Aperture: up to f/22 setting: ring and scale on the lens-shutter barrel
Focus range: 1-20m +inf

Focusing: manual front cell focusing, guess the distance, ring, distance scale w/ symbols for portrait, groups and landscape and DOF scale on the lens
Shutter: Prontor 500 LK, speeds: 1/15-1/500 +B
Shutter release: on the front cover, w/cable release socket beneath the lever
Cocking lever: also winds the film, on the back of the top-plate, long stroke
-Frame counter: manual reset, on the bottom plate, not works wo/ the film in the camera
Viewfinder: bright frame, w/ parallax correction lines
Exposure meter: Selenium cell, TTL coupled
Film speed range: ASA 10-800; setting: ring and scale on the lens-shutter barrel
Exposure setting: set the desire speed, then turn the aperture ring until the needles in the window matches
Translucent plastic part reflects the meter needle set to the viewfinder
Re-wind knob: on the top plate, pops-up by sliding the small lever on the back of the top plate
Re-wind release: same way with the re-wind knob
Flash PC socket: on the front cover
Cold-shoe
Memory dial : on the re-wind knob
Self-timer: lever on the lens-shutter barrel
Back cover: opens by a latch on the right side of the camera
Engraving on the bottom plate: Made in West Germany
Tripod socket: ¼"
Strap lugs: none
Body: metal; Weight: 699g
Community content is available under
GFDL
unless otherwise noted.