Vito C Standard first model image by Raúl Sá Dantas  (Image rights)
Vito C is a 35mm film viewfinder camera, manufactured by Voigtländer and produced between 1960-67. It is the first and basic model of the Voigtländer Vito C series.[1]
There are two models of the Vito C:[2]
First model: Accessory shoe fitted into the top housing and name engraved in large characters
Second model: Introduced in 1963, with protruding accessory shoe
They were offered various lens/shutter combinations:
Lenses: Lanthar 50mm f/2.8 or Color-Scopar 50mm f/2.8
Vito C Standard first model image by Raúl Sá Dantas  (Image rights)
Vito C series models
[
]
The Vito C camera series replace the Vito B camera series.

The film loading system is replaced by a classic opening back.
The shutter fires with or without film in the camera.
The shutter release is not on the top housing but on front of the body.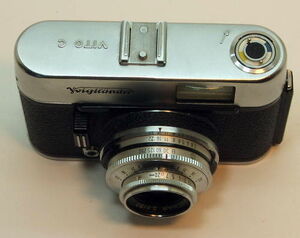 Vito C cameras don't have light meter nor rangefinder.

Vito CD cameras have un uncoupled light meter.
Vito CL cameras have a coupled light meter.
Vito CLR cameras have a coupled light meter and a coupled rangefinder.

All of the cameras are sold in Standard or Deluxe model, differences are only cosmetic.

Standard models: silver metal shutter release and lens barrel, embossed black name on top housing, black and red film reminder, transparent altuglass shutter face.
Deluxe models : black metal shutter release, leather covered lens barrel, raised chrome name, film reminder disc with leather in the center, chrome shutter face.

There are two body shape of the C series cameras:

The round-ended body style was produced between 1960-67
After 1967 a square-ended body was made.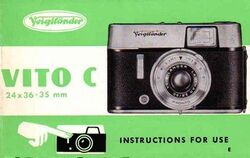 .
Notes and references
[
]
Links
[
]
In Sylvain Halgand's collection :