Voigtländer Bessa 66 c.1938, w/ simple frame finder image by Süleyman Demir  (Image rights)
Voigtländer Bessa 66 is a folding camera, manufactured by Voigtländer& Sohn AG, Braunschweig, Germany,and produced between 1938-41 and 1945-50. Bessa 66 and Bessa 46 (4.5x6cm format) series also known as Baby Bessa.
Bessa 66 was in a long series of Bessacameras and offered with a vast combination of shutters and lenses. It was replaced by Voigtländer Perkeo in 1950, it had a more modern look.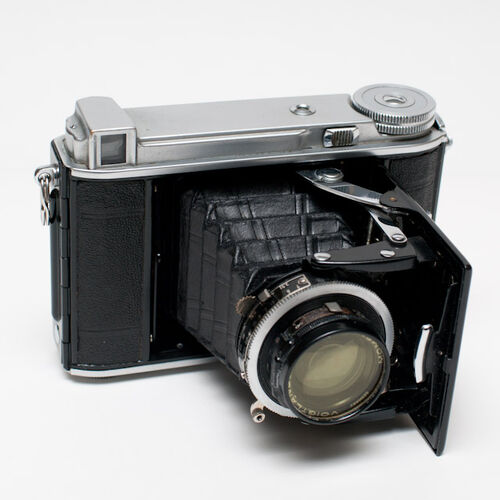 Baby Bessa models
There were two camera models with two sizes each in Baby Bessa series
Bessa 66 and Bessa 46 Deluxe model with optical viewfinder on the top plate
Bessa 66 and Bessa 46 with simple folding frame finder, later models optical folding frame finder
Voigtländer Bessa 66 early De Luxe model image by alf sigaro  (Image rights)
Specifications
Film: 120 roll, picture size 6x6cm on Bessa 66 and 4,5x6cm on Bessa 46
Lens: offered various lenses like Voigtar 75mm f3.5, Color Heliar 75mm f/3.5, Skopar 75mm f/3.5, Heliar 105mm f/3.5
Hinged Voigtländer Moment yellow filter, in very early models
Focusing: manual front focusing, guess the distance
DOF scale: a turning knob, on the right of the top plate
Shutter: offered various shutters like Gauthier Prontor II 1-1/175, Compur Rapid
Cocking lever: on the lens-shutter barrel
Shutter release: like lever shape, on the front cover, retracted when the camera is closed
Viewfinder: simple folding frame finder, later models optical folding frame finder, in Deluxe models optical viewfinder
Others: Self-timer; Flash PC socket on the shutter; Hinged back cover w/red window; Camera leg; Tripod socket 3/8 inch; Engravings on back cover: Voigtländer logo, Bessa 66, Germany.
Body: metal, Weight: 471g
Serial no.none
Voigtländer Bessa 66 c.1938 w/ simple frame finder Images by Süleyman Demir (Image rights)
Voigtländer Bessa 66 c.1938, w/ Voigtar 75mm f3.5 Images by Süleyman Demir (Image rights)
Links
At www.collection-appareils.fr :
In Italian