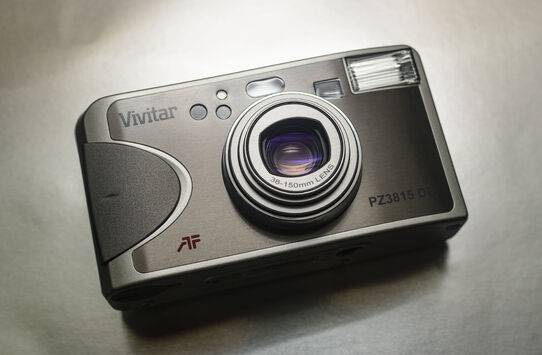 Vivitar PZ3815 DB is a flagship compact camera from Vivitar, it was introduced in the early 2000's. The Vivitar PZ3815DB is a re-branded Minox CD150DB, the Minox CD 150DB is also a restyled version of the Konica Z-up 150e. Along with the Minox CD 150DB, the Vivitar PZ3815DB being the latest iteration, these cameras now has the additional date back feature, which the standard Minox CD150 and Konica Z-up 150e lack.
Like many compact cameras, the Vivitar PZ3815 DB default to auto mode every-time it is turned on, however pressing the mode button once will revert the last setting when the camera was turned off. The camera features many shooting modes and a date back that works until 2052. The Vivitar PZ3815 DB has a rather good built quality, featuring a stainless steel plate in the front of the camera.
Type: 38 mm ~ 150 mm auto focus zoom camera with autoflash
Film format: 35 mm, 24 mm x 36 mm
Lens: 7 groups 7 elements (4G3P) / 38mm F4.5; 150 MM F13.8
Focusing: Passive infrared multi-zone AF system
Shooting distance: 1.0 m to infinity
Viewfinder: Real image type zoom finder
Shutter: Programmed auto expose system
Flash mode: Auto flash/red-eye reduction/fill-in flash/flash off
Photograph mode: Auto flash/red-eye reduction/self-timer/fill-in/night view portrait/flash-off/+1.5 exposure compensation/landscape
Film transportation: Auto loading, auto advance, auto rewinding, and mid-roll rewinding
LCD panel: Battery check, photograph mode indicator, date/time indicator (for Auto-date model only)
Self-timer: 10 seconds delay
Power source: 3V Lithium battery x 1 (CR2)
Charging time (New battery): 7 sec. (max.)
Battery life: Approx. 15 rolls of 24 exp-film with 50% flash
Dimension: 113mm x 60 mm x 45mm (with or without databack)
Weight: 185g (with or without data back)
Community content is available under
GFDL
unless otherwise noted.