VOOMP Pioneer is 35mm film rangefinder camera made by VOOMP and produced between 1933-37. [1]
The VOOMP II Pioneer is one of the first Leica II copies made in the Soviet Union. It was made by the Union of Optico-Mechanical Companies (V.O.O.M.P) in Leningrad. There are several versions of this camera, with different engravings on the top. Less than 1,200 VOOMP cameras were made between 1933 and 1937. The FAG Geodesiya and FED were also working on the project to create and produce a Soviet Leica during this period, and eventually FED became the factory that ended up as the major producer, possibly for political reasons. The VOOMP cameras are all dated and numbered and they are a very rare and historic Soviet camera. From SovietCams by Aidas Pikiotas [2])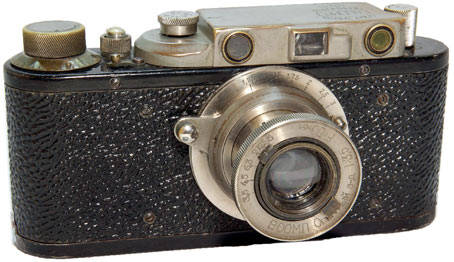 Some features
Lens: VOOMP 50mm f/3.5 screw M39 Leica mount
Shutter: speed from 1/20-1/500 +B
Notes and references
↑ Leica II copy, similar to FED-1 in Leningrad. It immediately appears different from Leica II (and, of course, from FED 1 too) because the top plate. It is flat, there is not accessory shoe. On the left side there is cyrillic engraving: "OPIT ZAVOD"; following "VOOMP" in a stylized bi-convex lens logo; then "LENINGRAD"; finally the serial number and construction year. The engraving is made with a succession of little dots (from [1] Hightechchat.)
Links
Community content is available under
GFDL
unless otherwise noted.