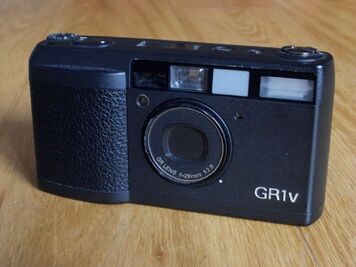 Call me Dan, or Zed. I'm British, living in Hong Kong.
I am a small private camera collector focussing especially on late vintage luxury film compact cameras, particularly cameras with prime lenses and aperture priority control. In the case of Ricoh, I have also begun to collect digital cameras too.
I can be found at ricohforum.com and photoforum.com under the same login name.
Of special note
Edit
I wrote the "1st proper camerapedia.wikia.com article" on the Ricoh GR1V
Brag list
Edit
Below is the list of compact film cameras currently in my collection. When I signed up, I noticed that several of the models were not covered at camerapedia (shown as red 'page does not exist' links), so I am in the process of filling them in.
===Fixed Focal===
Contax T2
Contax T3
 Fuji Klasse W
Fujifilm Natura Black F1.9
Fuji TW 3 (half-frame)
Konica Hexar AF
Leica CM
Leica Minilux 40 Special Edition
Leica Mini 3
Minolta TC-1
Minolta C35MF
Minolta AFS-V
Nikon 28Ti
Nikon 35Ti
Nikon AD3
Nishika 3-D N8000
Olympus µ
Olympus mju II
Olympus LT-1 QD (brown)
Olympus LT-1 QD (black)
Ricoh GR1S
Ricoh GR1V
Ricoh GR21
Ricoh R1
Ricoh R1E
Yashica T4 Super

===Zoom===
Contax TVS II
Fuji Natura Classica
Fujifilm Tiara Zoom
Leica Minilux Zoom
Nikon 150ED
Olympus µ mju:-V METAL
Olympus Stylus 80

===APS===
Contax Tix
Canon IXUS 
Canon ELPH
Canon IXUX L-1 (silver)
Canon IXUX L-1 (black)
Canon IXUS X-1
Leica C11
Olympus iZOOM 2000

My favorite pages
Edit
Community content is available under
GFDL
unless otherwise noted.