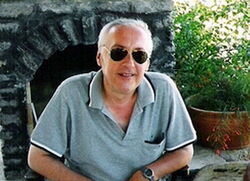 Suleyman Demir (31.05.1950 - 07.04.2012) R.I.P.
Suleyman Demir was a Medical Doctor and surgical pathologist. He lived most of his life in Ankara, Turkey.
He was an amateur photographer since 1971. In 2004, he left his old Nikon F801 into the old cameras' museum and began to use Fuji FinePix S7000 digital camera and then Fuji FinePix S9600.
In early 2010, he returned to the film photography. He used digital only for taking his collections' photos afterwards. He collected all types of old film cameras. But, he preferred foldings, former Soviet Union made ones, old Voigtlander and Zeiss Ikon cameras, and Japanese hit cameras, like Nikon F series, Olympus OM-1 etc. You can see these cameras in his Flickr pages: Camera collection.
He wrote detailed specifications and a brief history of the cameras in the description line of his camera photos in Flickr. Also, he wrote articles in the Camerapedia.wikia, especially about his cameras in the collection. Besides photography, he was a patient cactophile since late 1980's.
He died of a heart attack at his home early in the morning of Saturday, April 7th, 2012. May he rest in peace.
Community content is available under
GFDL
unless otherwise noted.