Topcon 35-L with square hood and

carry case. Picture courtesy of Helios 1984. (Image rights)
The
Topcon
35-S
,
35-L
and
35-JL
are
35mm
fixed-lens
rangefinder
cameras manufactured by
Tōkyō Kōgaku
from 1956 to late 1959 and successors of the
Topcon 35
series.
*
The Topcon 35-S was released in 1956 and manufactured for about a year. It features a specifically designed Topcor 44mm f/2 semi-wide angle and a Seikosha-MX leaf shutter with speeds from 1 to 1/500 sec and B. The lens is a Double-Gauss type with 6 elements in 4 groups (1-2-2-1), same design as the Topcor-S 50mm f/2. It has an accessory shoe on the top cover and an MFX synchronized flash terminal located on the side of the lens housing. The viewfinder is an Albada-frameline type with automatic parallax correction with a 1:1 aspect ratio. Lastly, the advance mechanism is double-stroke which was claimed by Topcon to prevent the tearing of sprocket holes in films. At the time of its release, it was priced at ¥33,200 ($109 in the U.S.A[1].).
**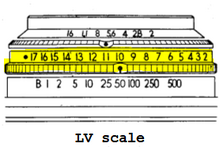 The Topcon 35-L (Beseler Topcon-L in North America) replaced its predecessor in 1957. It was released just a few months before the Topcon R (Beseler B Topcon). Its specifications are the same as the 35-S, however, it was upgraded with a Seikosha-MXL leaf shutter which features the "new" LV system. It was sold together with a selenium light meter giving readings in Light Value and was priced at ¥35,000.
***
The Topcon 35-JL was released almost simultaneously with the 35-L. It is identical to its sister camera but equipped with a Topcor 44mm f/2.8 and was slightly less expensive. The lens is an Heliar type with 5 elements in 3 groups (2-1-2), same design as the Topcor 50mm f/2.8. It was phased out in late 1959 together with the 35-L, marking the end of the 35mm rangefinders era at Topcon.
****
Size 132 x 79 x 64mm
Weight 720g
Filter size 40.5mm
Push-On lens cap size 42mm
Notes & References
Edit
 On the 35-L and 35-JL, the aperture ring click stops on full numbers when the shutter is set at B, 1sec, 1/2, 1/250 & 1/500 and click stops at half points between numbers when the shutter is set at 1/5, 1/10, 1/25, 1/50 & 1/100 for a better exposure. However, it is possible to set the aperture ring between click stops if needed. For more information concerning the light value scale and speed/aperture combination, read pages 22 to 25 of the manual.
 List of available accessories: Square hood, a leather case, a lens cap, shutter release button, a selection of filters (Y1, Y2, O2 & UV), reloadable cassettes for bulk film loading and an amplifier for the Topcon-Meter.
The Topcon-Meter was made by Sekonic.
Some Topcon 35-L and Topcon 35-JL have a modified Albada viewfinder with the edges of the window 100% silvered and a clear centre.
The Topcon 35-S has 10 aperture blades.
Both Topcon 35-L & Topcon 35-JL have 5 aperture blades.  
↑ Popular Photography - April 1957 - Vol. 40, No. 4 - Page 164

Bibliography
Edit
In English:
In Japanese:
In Chinese:
Community content is available under
GFDL
unless otherwise noted.