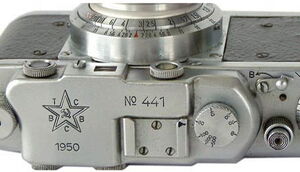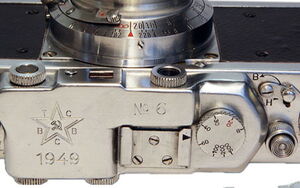 TSVVS is a 35mm film rangefinder camera made in former USSR and produced between 1949-50 and with quantity less than 1000 units.
Engravings on the top plate: five-corners star with inside the famous "hammer and sickle" and TCBBC in its arms, producing year and the serial no. TCBBC (in cyrillic) stands for Topographicheskaya Sluzhba Voenno-Vozdushnyh Sil = TSVVS, Topographical Service of Military-Air Forces. Some cameras have no engravings on the top plate !
The manufacturer factory is not known exactly cause no factory logo on the camera. The FED was a basis for development of this camera. It looks like closely FED-1 type 11a but some important differences as the lens mount is not M39 but Contax/Kiev mount, smaller viewfinder window, strap-lugs, on some cameras flash PC socket, yellow rangefinder eye-piece, heavier brass made, with a dull nickel finish, natural leather body. The lens is Zeiss Sonnar 50mm f/1.5 or f/2.
Due to the body similarity they say that the factory was FED. For this reson we added this camera into the FED rangefinder series.
As to Yuriy Davidenko's article about the factory Almaz which probably built this camera.
There is a confusion about the name of the camera also. As to USSR Photo.com, the correct name will be VTS-VS.
Nicknamed as the "General's FED", the TSVVS really was a special production high quality overall camera destined to be presented to the W.W.II Soviet military heroes.
Community content is available under
GFDL
unless otherwise noted.