Jurassic World: Dominion Dominates Fandom Wikis - The Loop
Play Sound
Smena Symbol type 4b (1978) image by Süleyman Demir (Image rights)

Smena Symbol (Смена Символ) is a viewfinder 35mm film camera made by LOMO and produced between 1970-93. Smena Symbol = Смена Символ, Smena means Young Generation or Relay.
There are 8 types and 3 sub-types of the Smena-Symbol. [1] [2] [3] [4] Export types were named as Revue 135 Symbol, Panorama, and Cosmic Symbol.
The list of all Smena models is in the article Smena Series by GOMZ & MMZ & LOMO.
Smena Symbol type 3 (1971-72) image by Antti Lehtinen  (Image rights)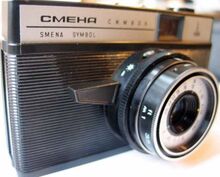 Specifications
[
]
Lens:LOMO (ЛОМО) T-43 (Triplet) 40mm f/4 filter slip-on

Modernized cameras that were produced later with fast black surface "Industar-73" 40mm f/2.8 lens
Aperture: f/4-f/16
Focus range: 1-10m +inf

Focusing: manual, guess the distance or use symbols on the scale
Shutter: leaf shutter, speeds: 1/15-1/250 +B w/synchronizer

Setting: ring and double scale on the lens shutter barrel, you can use either the symbols or numeric scales

Shutter release: on the lens-shutter barrel w/cable release socket
Cocking lever: also winds the film, on the back of the front plate
Frame counter: auto-reset, advance type, window on the back of the top plate
Viewfinder: reverse telescopic finder, reduced size displaced to allow a rewind crank
Film speed memo on camera back
Hot-shoe
Body: plastic
serial no. on the bottom plate, the first two digits show the production year
Cosmic Symbol type 1a (1971-91) image by Symon Pierce  (Image rights)
Symbol-136
[
]
Modernized Smena Symbol camera with fast Industar-73 2.8/40mm lens. Very few of these cameras released in 1977-79. [5]
Notes and references
[
]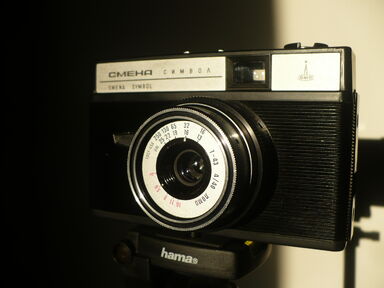 Links
[
]