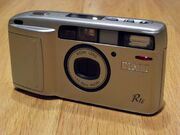 The R1E was released by Ricoh in May 1995 as an export version of the Ricoh R1.
The Japan-manufactured R1E is very similar to the award winning R1, but for various economisations:
All plastic construction, replacing aluminium shell and leatherette trim
24mm wide panoramic mode not provided
Single point AF indicator
Slower maximum shutter speed
Otherwise, all the physical features, modes and functionality of the R1 remain. Indeed, the R1E boasts some advantages over the R1:
The original retail price is cheaper. Being less sought after than the 'cult' R1, the second hand value is consistently less.
The R1E is faster to start up, especially when if R1 is in WIDE P mode.
R1E is a sophisticated and capable camera that competes well with other contemporaneous high-end point and shoot cameras. The camera's small size, slim form factor and light weight make it one of the most pocketable full frame point and shoot cameras of all time.
Ricoh R1E Major Specifications
[
]
Lens
30mm F3.5
4 elements in 4 groups
Focus
Subject Passive AF (3 Point)


0.35m - infinity

Finder
Optical viewfinder
Brightlines for full frame and panoramic
Image Size
Full frame and mask crop panoramic
Shutter
Electronic shutter 2s - 1/400s
Film
35mm (135 cartridge)
ISO 50 - 3200
DX (default ISO 100)

Winding
Pre-wind, auto rewind, mid-roll rewind
Flash

Auto flash, red eye preflash, on, off, slow synchro
Range 0.35m - 2.7m (ISO 100)
Range 0.35m - 5.4m (ISO 400)
5s recycle time

Modes
Super Night mode, Single AF mode, Infinity mode, timer/ remote control mode
Power
Single 3V lithium battery CR-2
Size
Width 117mm Height 25mm Depth 61mm
Mass
140g without battery

Links
[
]