The Reflekta is a continuation of the Reflecta by Kamera-Werk Tharandt. The model name was spelled with a "k" from 1949 onwards. The Reflekta II is a version with double exposure prevention.
The production of the Reflekta and Reflekta II was taken over in 1950 by VEB Welta-Kamera-Werk, a merger of Welta and Kamera-Werk Tharandt.
The Reflekta was replaced by the Weltaflex in the mid-1950s.
Description and specs of the Reflekta II
[
edit
|
edit source
]
Focusing is done by a lever under the taking lens. The framecounter is a small red window on the back of the camera. The viewfinder is rather dim.
Four 75/3.5 lenses are reported: the Triotar and Trioplan by Meyer, the Meritar by Ludwig and the Pololyt by ROW. Similarly, five different shutters are known on this camera; Cludor (B, 1–1/200s), Junior and Vebur (B, 1–1/250s), Prontor-SV (B, 1–1/300s), Velax (B, 1/10 - 1/200s). It uses 120 film.
The Flektar is an export version sold by Peerless.[1] The Superflex is another export version sold by Penn.[2]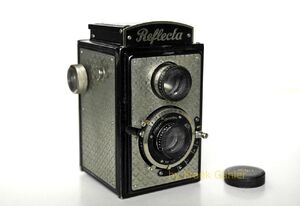 From left: Welta Reflekta (1951 with Ludwig Meritar 3.5/75 in WG Blitz I shutter; Welta Reflekta I Pololyt 3.5/75 in Prontor-SV shutter; Welta Reflekta II 3.5/75 in Prontor shutter
In English:
In German:
In Polish:
in French:
Community content is available under
GFDL
unless otherwise noted.