Pouva Start second model, c.1956-59 image by Süleyman Demir (Image rights)
Pouva Start is a medium format film viewfinder like box camera made by Karl Pouva AG in Freital, near Dresden, Saxony, former East Germany, and produced beteween c.1952-73.
The Pouva Start was a great success for Karl Pouva's little camera factory in Freital near Dresden. With a moderate price of only 16.50 Deutsche Mark (east) it was affordable for the young people. Thus it became a typical beginner's camera in East Germany. Estimated 1.7 million Start were sold. The first model of 1951 (or 1952?) had just a sports finder, its other features were like those of contemporary smart Bakelite cameras: two apertures, modes time and instant (1/30 sec.), screw tube and simple lens (Duplar 1:8, 2 elements in 2 groups). It was licensed by Hungarian and Polish camera makers.
The second Pouva Start version of 1956 was a little smarter, with optical finder and weather symbols for the apertures. The West German Hama distributed a similar bakelite camera, made by Apparatebau und Kamerafabrik in Monheim. This copy, the Hamaphot P56L, had an Original-Tricomat-6.5cm lens, a flash synchronized shutter, and a flash shoe.
The second model was offered also with yellow lens front, viewfinder and rewind knob and there are some cosmetic variations (also called model 3 and 4) . The first model has only a sports frame finder.
Pouva Start, later model image by Alfred Sigaro (Image rights)
Models
[
]
First model
[
]
Second model
[
]
Specifications of the Second Model
[
]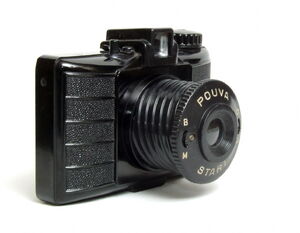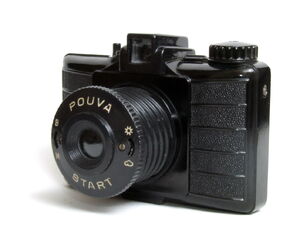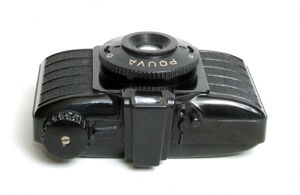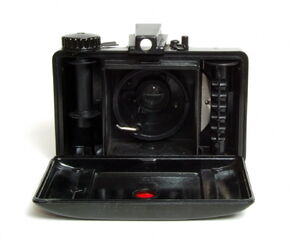 Film: 120 roll, picture size: 6x6cm
Lens: Duplar f/8, (2 elements in 2 groups), plastic, collapsable screw tube, no name on the lens
Aperture: cloudy f/8 and sunny f/16; setting: by a lever on front of the lens
Focusing: fixed focus
Shutter: simple spring rotary shutter, one speed 1/30 +B ; setting: by a lever on front of the lens, B and M (instant)
Cocking and Shutter release: by the same knob, press and release; on the top plate
Cable release socket: beside the shutter release, w/ safety lock lever
Viewfinder: reverse telescopic finder
Winding knob: on the top plate
Flash PC socket: none
Self-timer: none
Back cover: remowable, w/red window; opens by a lever beside the winding knob
Tripod socket: ¼"
Strap lugs : none
Body: Bakelite; Weight: 221g
Serial no. none
Links
[
]