Originally produced between 1971 and 1972 the Square Shooter was a Ridged Plastic Bodied, Packfilm Type 80 instant camera. Although similar to the Colorpack II the Square Shooter was considered more advanced and that was reflected in the retail price of $34.95 as opposed to the Colorpack II retail price of $29.95.
The Square Shooter featured: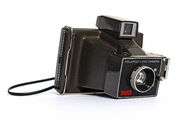 A built in socket for Hi-Power flashcubes, a "Focused Flash" system.
Exsposure system designed only for 75 ASA films.
Typically they also featured the adjustable front cell focusing lens with distance scaling marked on the lens ring.
"Everset" shutter that did not need recocking.

It lacked the built-in development timer of the Colorpack II and was slightly smaller.