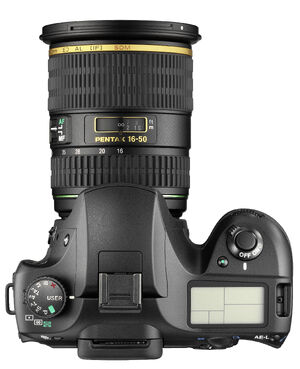 The Pentax K20D was the successor to the K10D DSLR of Pentax.
The body is similar to the K10D, but with the addition of x-sync socket and larger 14.6MP sensor made by Samsung. At the time this was the highest resolution APS-C DSLR offered by any camera manufacturer. Although 8 months later Canon trumped it with the 15.1MP EOS 50D.
Like the K10D, it was fully weather sealed, and had the additional contacts to focus with the DA* series of lenses which had SDM motor focus drive, as opposed to screw drive lenses of earlier Pentax AF lenses. It will also focus third party lenses which have this sort of focus system (eg Sigma HSM)
Other improvements over the K10D was the increased ISO performance up to 6400ISO (K10D - 1600ISO) and an improved AF system, which still had 11 AF points (9 cross-type), but improved its focus speed over the K10D.
The sensor was also the first CMOS type sensor to be fitted to a Pentax DSLR, all previous models used CCD. This gave the advantage of Live view, albeit a basic version of it.
A further feature was 21 FPS, which could only be used with live view and at only 1.4MP. Standard FPS through the viewfinder was the normal 3FPS, as per the K10D.
Like all Pentax DSLR's, it can be used with any Pentax lens, from the early K-mount manual focus, through to the modern DA* lenses. With an adapter even M42 lenses can be used.
Rivals of this camera at the time would have been the Canon EOS 40D and the Nikon D90/D300 models.
Community content is available under
GFDL
unless otherwise noted.