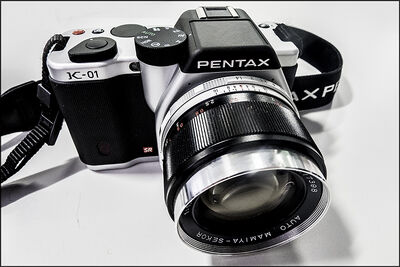 The Pentax K-01 was introduced in March 2012 as their second Mirrorless interchangable lens camera, after the Pentax Q in 2011. This time, the camera was created to use the K-Mount lenses without an adapter. 
Designed by the renowned industrial designer, Marc Newson, the looks have polorised opinions, and the result has possibly had an effect on the number of units sold. Pentax in early 2013 announced that the camera would be discontinued, barely 12 months after on sale date.
The sensor is the same as the same Sony produced 16.3MP APS-C one that is in use by the Pentax K-5. K-5 II, K-5 IIs and K-30. However unlike the K-5 series of cameras, there are some differences
RAW is only Adobe standard DNG, and does not have the Pentax PEF type
ISO range is restricted to 100-25,600 as opposed to the 80-51,200 of the K-5 range
Colour depth in RAW is only 12bit and not 14bit of the K-5 (but the same as the K-30).
As with all Pentax K-mount bodies, the camera will work with any K-mount lens that has been produced since the 1970's albeit with restrictions, such as stop down metering, AF etc. However such is the mirrorless design, and the use of an LCD only, certain advantages can be had. For example an AV mode, the camera will adjust metering when the aperture ring is stopped down. Also, the camera has "Focus Peaking" where it will highlight the area in focus when using manual lenses. Also any M42 screw mount lens can be used with the adapter ring on the camera with the same stop down metering and focus restrictions.
Community content is available under
GFDL
unless otherwise noted.