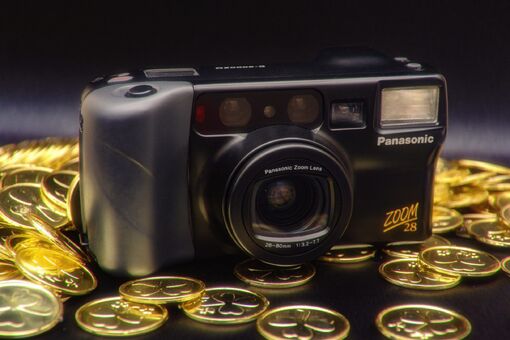 Panasonic C-3000ZM (Zoom 28) is a fully automatic autofocus camera first introduced in 1991 by Panasonic. The C-3000ZM was notable for being one of the early compact zoom camera that adopt 28mm wide focal length. The lens has a rather large aperture of F3.2 at the widest focal length.
The camera has the ability to do long exposure via a bulb mode, an aux port for a cable release is also available. The Panasonic C-3000ZM was subjected to a rebrand version called the Vivitar 680PZ which has a suggested retail price of $479.95 in 1993.
Type: 35mm lens shutter camera with built-in flash, zoom lens, and autofocus.
Film format: 24mm x 36mm (135 film magazine)
Lens: 28 - 80mm zoon lens, F3.2 - F7.7 (10 elements in 9 groups)
Focus: Auto focus ( with focus lock & infinity lock)
Focus range: 0.75m - infinity
Shutter: Automatic with bulb.
28mm: F3.2, 1/30 sec. (EV8.5) - F22, 1/250 sec. (EV17)
80mm: F7.7, 1/50 sec, (EV11.5) - F27, 1/180 sec. (EV17)
Self timer: Electronic 10 seconds
Film-speed setting: Automatic DX codes (ISO): 50, 100, 200, 400, 1000, 1600, 3200.
Film transport: Automatic advance and rewind, midroll rewind possible.
Flash: Built-in, operating range (100 iso film):
28mm: 0.75 - 4.9m
80mm: 0.75 - 3.3m
Recycling time for flash: Approx. 2.5 sec. (with new battery)
Battery life (24 exposures with new battery): Approx. 30 rolls ( using the flash for approx. 50% of shots)
Power source: DC 6V, lithium batttery CR-P2 or DL 223A
Dimensions: 148mm (W) x 66mm (D) x 75mm (H)
Weight: Approx. 435g including battery
Community content is available under
GFDL
unless otherwise noted.