autographic version with beautiful stylus
The No. 1 and No. 1A Pocket Kodak was a folding camera. It made 2 ½×4 ¼ " exposures. The Pocket No. 1 used 120 film and the Pocket No. 1A used A116 film.
Between 1908 and 1912 the Kodak Company manufactured the 1A Special model.  The 1A Autographic Special was the autographic variant beginning in 1914, allowing the photographer to make notes on the film.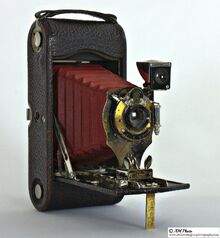 Links
[
]