Jurassic World: Dominion Dominates Fandom Wikis - The Loop
Play Sound
The Minox 35 GT, introduced in 1981, continued Minox's successful range of 35mm compact cameras, reputedly the smallest full-frame 35mm cameras ever made. The lens retracts into the camera body when closed, fully opening the cover activates the battery. Exposure is automatic, aperture priority. Different models in the Minox 35 range were identified by shutter release buttons in differing colours: the GT is easily identified by its yellow shutter release button.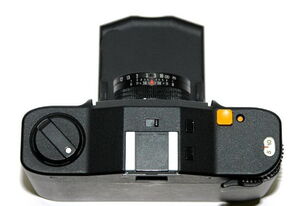 The GT improved features of its predecessors, the EL and the GL. It introduced an electronic self-timer, with a flashing LED above the camera's name. Another improvement on the previous models is the siting of the cable release socket to the side of the shutter release button, to prevent accidental triggering of the shutter.
What makes the camera remarkable (besides its small size) is the accuracy of it's low-light exposure metering. Specifically, the exposure system gets the exposure right at night, though the colors recorded by the film may shift somewhat due the its photo-chemical limitations. Simply set up the camera on a suitable tripod or hard surface, use the 10 second timer (to eliminate vibrations), and wait for the shutter sounds to signal that the picture has been taken. Even 1/2+hr exposures come off without a hitch, allowing you to capture star movements, for example. Later editions of the camera do not feature the same exposure system.
Specifications
[
]
Type 35mm compact camera
Size 100 mm x 61 mm x 31 mm (W x H x D)
Weight 200 grams (with battery)
Image Format 24 x 36 mm (W x H)
Lens Minox Color-Minotar, 35 mm f/2.8, no filter thread (proprietary filters simply push on).
Diaphragm Leaf diaphragm, continuously adjustable f/2.8 to f/16.
Focusing Manual scale focusing 3ft/0.9m - infinity.
Shutter Speeds 1/500 second, longest speed dependent on film speed, e.g. 30 seconds with 25 ISO, 1 second with 400 ISO. Backlight switch to double the exposure.
Viewfinder Direct finder with needle scale, markings for 1/500, 1/125, 1/30 second, shading to indicate over-exposure and slow speed warning.
Film Loading Manual, whole back slides off to load film.
Film Transport Manual dual stroke lever.
Flash Contact Hot shoe, X synchronised, automatic time switching to 1/125 second.
Tripod Socket 1/4 in.
Battery PX 27 [Mercury Oxide] or more recent S27PX Silver Oxide 6v
Serial number. is to be found inside the film compartment.
Links
[
]