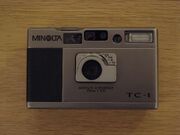 The Minolta TC-1 has the smallest frontal area of any professional-grade compact autofocus camera.
In 1996, the Minolta TC-1 was awarded the Camera Grand Prix by Camera Journal Press Club of Japan.
It is best known for its high-grade Minolta G-Rokkor 28mm F/3.5 lens with unusual four step bladeless aperture ring comprising a disc with three perfectly circular aperture holes. This aperture system gives the camera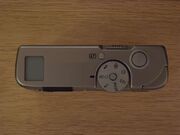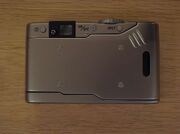 's images a pleasingly soft bokeh. The multi-coated all glass lens with multiple aspherical elements is technically advanced, but some barrel distortion can also be seen and the Minolta TC-1's images have a distinctive look.
The Minolta TC-1's control system is designed with deliberate picture taking in mind, rather that a point-and-shoot approach.
The viewfinder indicates autofocus distance and shutter speed.
The camera offeres no Program AE mode. Exposure control is by aperture priority AE only and an improper aperture setting can result in poorly exposed photographs.
A dedicated spot metering button conveniently located directly under the tip of the photographer's right thumb allows precise metering.
The other main controls are the mode dial and directional slider. The mode dial has the following positions:
HOLD - the dial is locked unless the release button is pressed
Flash mode - auto, on, slow synchro
Red eye - off, on
Timer - off, 10s, 2s
ISO override - ISO6-6400 in 1/3 stops
Focus, AF, from 0.45m stepwise to 99m in small increments (there is a seperate AF button that resets to AF mode)
Exposure compensation: +/- 4 stops in half stops
There is also a button to illuminate the LCD display and a mid roll change button.
Minolta TC-1 Major Specifications
Type
35mm compact autofocus camera
Film

DX coding compatible (ISO25-3200) with manual override
Non-DX-coded film defaults to 100
Manual ISO setting ISO6-6400 in 1/3 stops

Lens
Minolta G-Rokkor
28mm f/3.5mm comprising 5 elements in 5 groups (3 aspherical surfaces)
Metering
2 segmented centre weighted or spot
Aperture
F/3.5, F/5.6, F/8, F/16
Shutter
1/750s - 4s
Focus
Passive AF (455 steps)
Manual focus 0.45m-99m (22 steps): 0.45, 0.5, 0.55, 0.6, 0.65, 0.7, 0.8, 0.9, 1, 1.2, 1.4, 1.6, 1.8, 2, 2.5, 3, 4, 5, 7, 10, 20, 99
Flash

Built-in, multi modes
ISO 100: 0.45m - 2m
Guide number 7m
Recycle 5s

Power
1 CR123 3V lithium battery
Size
Width 99.0mm x Height 59.0mm x Thickness 29.5mm
Mass
185g without battery
Community content is available under
GFDL
unless otherwise noted.