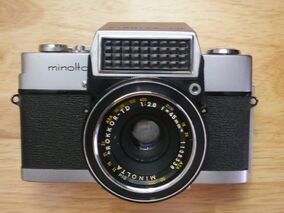 La Minolta ER, o-Ojo eléctrico Reflex, fue una lente fija de hojas de obturación de 35 mm SLR introdujeron en 1963 [1]. Fue Minolta sólo se aventuran en las SLR de hojas de obturación y representó el primer paso de esa empresa hacia SLR automatización exposición de la cámara. El ER ofrece un modo de exposición automática de obturación preferido en el que la abertura fue controlado por el construido en el medidor de exposición selenio. El ER originalmente vendidos en los mercados de exportación sólo [2].
El ER contó: Seikosha-SLV detrás del lente de hojas de obturación con velocidades B, 1/30 seg a 1 / 500s, la sincronización del flash X y M. a través del lente de enfoque con espejo de retorno automático que refleja a través de pentaprisma al visor. Fresnel pantalla de enfoque de imagen partida y microprisma con. gran fotocélula de selenio llenando todo marco frontal de pentaprisma, con la lectura a través del visor. lente 45mm / F2.8 no intercambiable Minolta Rokkor-TD, con 4 elementos en 3 grupos, diafragma de exposición automática con 5 hojas de apertura. Anillo de ajuste de ASA en bisel frontal de la lente. gran angular W Rokkor 35mm / F5.6 y teleobjetivo T Rokkor lentes de 85mm / f5.6 conversión atornillados a la lente fijo.
The Minolta ER, or Electric-eye Reflex, was a fixed-lens leaf-shutter 35mm SLR introduced in 1963[1]. It was Minolta's only venture into leaf-shutter SLRs and represented that company's first step towards SLR camera exposure automation. The ER offered a shutter-preferred automatic exposure mode in which aperture was controlled by the built in selenium exposure meter. The ER originally sold in export markets only[2].
The ER featured:
 Seikosha-SLV behind-the-lens leaf-shutter with speeds B, 1/30sec to 1/500s, X and M flash synchronization.
 through-the-lens focusing with automatic return mirror reflecting through pentaprism to viewfinder.
 fresnel focusing screen with split-image and microprism.
 large selenium photocell filling entire front bezel of pentaprism, with reading through viewfinder.
 non-interchangeable Minolta Rokkor-TD 45mm / f2.8 lens, with 4 elements in 3 groups, automatic exposure diaphragm with 5 aperture blades.
 ASA adjustment ring at front bezel of lens.
 wide angle W Rokkor 35mm / f5.6 and telephoto T Rokkor 85mm / f5.6 conversion lenses screwed onto the fixed lens.
References
Edit
Community content is available under
GFDL
unless otherwise noted.