Built in the mid 1960s, by Marshal Optical Works, of Japan, the Marshal Press is a design direct from the brain of Mr. Seichi Mamiya. Resembling a giant Mamiya Press camera, it also shows influences of the Mamiya TLRs. Coupled rangefinder with rack and pinion focusing, and permanently mounted 6x8 back. (The negative size measures 5.7x8.2cm) The back takes both 120 and 220 format film. The lens is a fixed Nikkor-Q 105mm F3.5 in Seikosha shutter. Two lens converters were offered, giving a 135mm F4.7, or 150mm F5.6.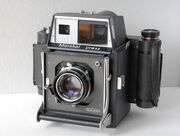 Bibliography
[
]
Lewis, Gordon, ed. The History of the Japanese Camera. Rochester, N.Y.: George Eastman House, International Museum of Photography & Film, 1991. ISBN 0-935398-17-1 (paper), ISBN 0-935398-16-3 (hard). P.122.
McKeown, James M. and Joan C. McKeown's Price Guide to Antique and Classic Cameras, 12th Edition, 2005-2006. USA, Centennial Photo Service, 2004. ISBN 0-931838-40-1 (hardcover). ISBN 0-931838-41-X (softcover). P.653.
Sugiyama, Kōichi (杉山浩一); Naoi, Hiroaki (直井浩明); Bullock, John R. The Collector's Guide to Japanese Cameras. 国産カメラ図鑑 (Kokusan kamera zukan). Tokyo: Asahi Sonorama, 1985. ISBN 4-257-03187-5. Item 6077.
Links
[
]
In English:
In Japanese: