Jurassic World: Dominion Dominates Fandom Wikis - The Loop
Play Sound
See also the Mars Camera and Mars 99 by Emil Wünsche.
Mars was a Japanese company which sold shutters and accessories in the late 1930s and early 1940s. It was based in Ebara, Tokyo (currently in Shinagawa).[1] According to the original documents found so far, its full name was Mars Shashin Kōgyō-sha (マース写真工業社),[2] but one recent source gives "Mars Kōgaku Kōgyō-sha" (マース光学工業社) instead, and the marking Mars Kogaku Tokyo appears on the shutter of the Baby Balnet camera.
The company made or sold various shutters, including the Lex (T, B, 1–200 or T, B, 5–200) and Patent Mars (T, B, 1–250).
☀https://www.flickr.com/photos/59361781@N03/41438077304/in/dateposted-public/
A column in Asahi Camera April 1940 featuring the Mars shutter (T, B, 5–200, #00 size) says that the device was distributed by Mars Shashin Kōgyō-sha, but was actually manufactured by a company called Tōyō Seiki Kenkyūjo (東洋精器研究所), about which nothing else is known.[3]
In addition to its shutter range, the Mars company reportedly marketed an accessory called "Patent Goal Finder" (パテントゴールファインダー), combination of an eye-level and a waist-level finder.[4]
Shutter list
[
]
Patent Mars (T, B, 1–250),[6] on the following cameras:
Lex: see corresponding page
Zeitax (5–200), unconfirmed[7]
Mamiya Six model lla
Balnet (B, 1–200 and B, 1–250), on some Baby Balnet
A synchronized version of the Balnet shutter was produced after 1945, perhaps by another company.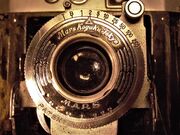 Notes
[
]
Bibliography
[
]
Asahi Camera. "Atarashii kikai to zairyō" (新しい機械と材料, New equipment and materials), April 1940, pp.705–7.
Asahi Camera (アサヒカメラ) editorial staff. Shōwa 10–40nen kōkoku ni miru kokusan kamera no rekishi (昭和10–40年広告にみる国産カメラの歴史, Japanese camera history as seen in advertisements, 1935–1965). Tokyo: Asahi Shinbunsha, 1994. ISBN 4-02-330312-7.
"Kokusan shashinki no genjōchōsa" (国産写真機ノ現状調査, Inquiry into Japanese cameras), listing Japanese camera production as of April 1943. Reproduced in Supuringu kamera de ikou: Zen 69 kishu no shōkai to tsukaikata (スプリングカメラでいこう: 全69機種の紹介と使い方, Let's try spring cameras: Presentation and use of 69 machines). Tokyo: Shashinkogyo Syuppan-sha, 2004. ISBN 4-87956-072-3. Pp.180–7.
Letter to C.C.N. In Camera Collectors' News no.31 (January 1980). Nishinomiya: Camera Collectors News-sha. Pp.33–4.
Sugiyama, Kōichi (杉山浩一); Naoi, Hiroaki (直井浩明); Bullock, John R. The Collector's Guide to Japanese Cameras. 国産カメラ図鑑 (Kokusan kamera zukan). Tokyo: Asahi Sonorama, 1985. ISBN 4-257-03187-5.