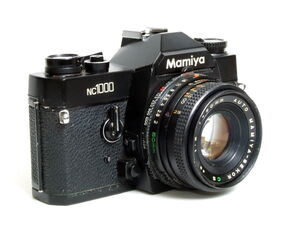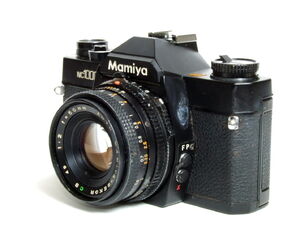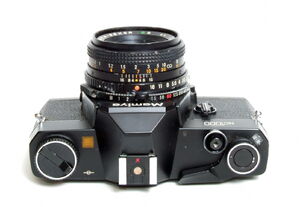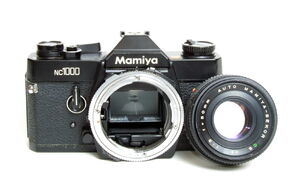 Released in 1978, the Mamiya NC1000 was a dramatic departure from the Mamiya SLR's before it. It weighs only 16 oz. (compared to 26, 25 and 24 oz. for the DTL, XTL and MSX/DSX, respectively) and was considered remarkably easy to handle. It had an electronic focal-plane shutter, with speeds from 1 to 1/1000 sec. and a hot shoe mount with 1/60 sec. sync. The meter was a center-weighted CdS cell powered by two MS76 batteries, with the indicator and microprism split-image visible in the finder. Shutter-priority AE could also be set manually.
This series from Mamiya included two cameras: the NC 1000 and NC 1000s. Both had a bayonet mount (CS mount) that was different from other Mamiya bayonet mountings. The NC1000s was released later the same year. its most distinctive feature was cosmetic: a pocket holder on the back door that allowed you to keep a film-box end for reference. The NC1000s also allowed for five changes in the focusing screens from the typical rangefinder-spot Fresnel screen to a transparent cross-hair screen.
But the really significant change was in the shutter construction (sometime after models with a serial number of approximately K152200). The difference cannot readily be seen, but the new construction meant the speeds of the 1000s shutter were supposed to be more stable. Lenses for this series are still available and can be found on Ebay at regular intervals.
There was a name variant of the NC1000, sold by Sears and called the Auto CS 1000MXB in black and Auto CS 1000MX in chrome.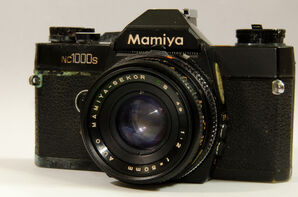 Links
[
]