Leica R9 is a 35mm film SLR camera made by Leica and produced between 2002-2009.

R9 is the lastR series film camera of Leica. Its predecessor is Leica R8 and R9 is quite similar with it but slight modifications. The R9 is fully compatible with the Leica Digital Module R 11-megapixel digital back. Leica has never offered autofocus on its top-of-the-line models such as the R9, or the M series rangefinder cameras.
Leica R9 successor would be the Leica R10 but it stayed as a prototype.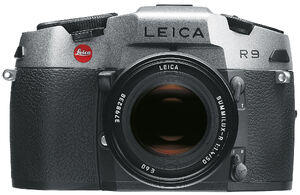 List of the differences from R8
[
]
Frame counter on top of the cover and now offers three locations where the framenumber can be seen: on top, in the display and at the back and in the finder.
Lock on the program selector wheel: you could inadvertently change the wheel to easy when handling the camera or the strap
Display at the back can now be illuminated when in the dark or dim lighting
The sensitivity of the matrix metering can be changed by steps of 0.1EV
Flash synchronization now has the Metz HSS possibility with speeds from 1/360 to 1/8000
Auto fill in flash works now at full aperture and with slow speeds
Manual correction of flash power is possible in P-mode with plusminus 3 1/3 EV
AE-lock possible with all automatic modes and average and selective readings
Weight is 790 grams compared to 890 grams with the R8
Links
[
]