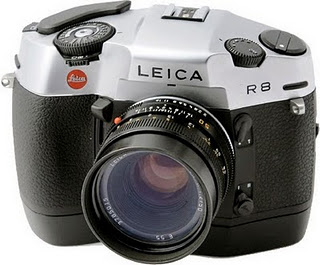 Leica R8 is a 35mm film SLR camera made by Leica and introduced in 1996.
The R8 design is a complete change compared with the conventional previous Leica's, either reflex or rangefinder ones. R8 is much larger and heftier than the earlier R series and with a totally new line of accessories.The R8 is almost fully compatible with the new Leica Digital Module R11-megapixel digital back.

There is no auto-focusing, however widespread in 1996. The bump above the prism has quite disappeared. But, there is still a manual setting lens, a rewind crank and also a fast transport lever, etc. The R8 was the first R series camera to have no association with Minolta, and was a completely Leica design. This body won many prizes.
Leica R8 successor is Leica R9
Specifications
Edit
Lenses: There are many R series lenses compatible with R8
Lens mount: Leica R bayonet with additional electrical contacts ("ROM contacts")
Shutter: Copal vertically running metal-leaf unit
Speeds: 32-1/8000, steplessly in automatic modes, or to 16 seconds in half-stop steps in manual mode, as well as Bulb. The flash X-sync speed is 1/250
Shutter release: on the shutter-speed dial, w/cable release socket
The optional Motor-Drive gives additional front and vertical-grip releases
Operating modes: Manual, Aperture priority, Shutter priority, Program, and Flash
Metering methods: Selective (7mm central area), 6-element matrix, center-weighted, and flash TTL center-weighted
Exposure lock: By light press on shutter release
Exposure compensation: Plus or minus three stops in half-stop increments, using lever on left side of the eyepiece
Film speed range: Automatic DX coding ISO 25 through 5000; manual ISO 6 through 12,800
Metering range: 0.007–125,000 cd/m³ (EV −4 through EV 20)
Flash sync: Hotshoe center contact or external synch socket; first or second curtain sync, as well as strobe (multiple flashes) view
Flash X-sync 1/250 second or slower
TTL flash metering compatibility: Leica dedicated SF 24D flash unit and Metz units with Metz SCA 3501 adapter
Viewfinder coverage: 93%, magnification 0.75× with 50 mm lens
Self timer: 2 sec or 12 sec
Mirror pre-release: Selectable via switch; first shutter release press activates mirror, second activates shutter
Frame counter: In viewfinder and on rear cover LCD
Multiple exposures: Unlimited, with multiple exposure switch on body
Body: Cast zinc top plate, aluminum frame, synthetic base, rubber bottom; Weight 890g
Battery: 6v, 2× CR2 lithium battery