Leica R7 is a 35mm film SLR camera made by Leica and produced between 1992-97. It is a redesign of the Leica R5, electro-mechanical and auto-exposure and program modes.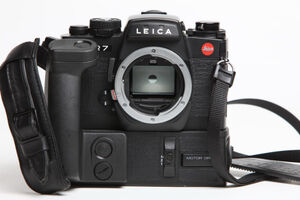 The Leica R7 is like to Leica R5. But several features found on the more up-to-date Leica R6 and R6.2 have been added.
The R7 has a more full-featured TTL flash mode. Using Metz SCA compatible flash units, fill flash is now available with shutter-priority AE, and the system will switch automatically between fill flash and full flash in Program mode.
Exposure compensation has been increased from ±2 EV (in 1 / 3 stop increments) to ±3 EV (in 1 / 2 stop increments).
The R7 takes four 1.5 volt batteries instead of the R5's two, extending service life between battery changes.
Frame counter was repositioned for easier viewing.
All other features of the R5 were retained.
Links
[
]
[

]