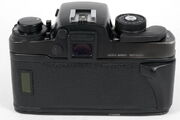 Leica R6 is a 35mm film SLR camera made by Leica and produced between 1988-92.

The R6 was the first mechanical, manual-exposure-only SLR produced by Leica since the Leicaflex SL2 was discontinued.
Leica R6 and R6.2's electronic counterpart is the Leica R7.
Some features
[
]
Metering modes: center-weighted averaging or a central 7mm spot
Metering: via a match-diode display in the viewfinder
Autoexposure: none
Shutter speeds: 1-1/1000 +B, with X sync at 1/100
Motor drive option
Mirror-lock-up (the first Leica since the original Leicaflex to have one) *Interchangeable focusing screens
TTL flash metering with Metz SCA compatible flash units
Depth-of-field preview
Self-timer
Viewfinder diopter adjustment
Leica R6.2
[
]
Produced between 1992-97
The R6.2 is an update of the R6. The two most significant changes are a higher top shutter speed (1/2000) and an improved TTL flash mode that will meter flash exposure at any shutter speed from 1/100 to B.
Links
[
]
[

]