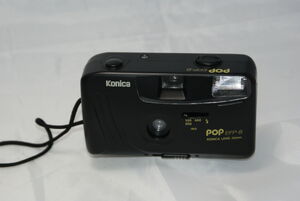 Konica Pop EFP-8 is a plastic body focus free 35mm film camera with a built-in electronic flash. A one touch switch opens the lens cover and unlocks the shutter release button. The film-check window on the back cover is used to identify speed and type of film.
SpecificationsEdit
Type: Point and shoot
Film: 35mm
Film advance: manual thumbwheel system
Film rewinding: rewind crank and film door opener
Frame counter: analog, resets when camera back is opened
Film speed range: 100/200 ISO, 400 ISO
Format: 24 X 36mm
Lens: 35mm, 3 elements, 3 groups
Viewfinder: no frame lines
Shutter:
Shutter speed:
Aperture: f/6.0
Focusing: fixed focus
Flash: ISO 100 1.3m-3.0m (4.3ft-9.8ft); ISO 400 1.3m-5.0m (4.3ft-16.4ft)
Flash recycle time: ready light on in approximately 5 sec. with fresh alkaline batteries
Battery: two 1.5v AA alkaline batteries
Dimensions: 128mm(W) X 72mm(H) X 49mm(D)
Weight: 194g (without batteries)
Section heading
Edit
Write the second section of your page here.
Community content is available under
GFDL
unless otherwise noted.