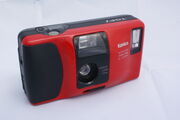 Konica Top's is a motorized full-frame 35mm compact camera with auto flash. All plastic body with a black rubber like grip.
The slider switch under the lens on the camera front, when shifted to the flash side of the camera, opens the built-in lens cover, energizes the flash and unlocks the shutter release button. When the slider switch is shifted to the grip side, the lens cover moves over the lens, shuts off power to the flash circuit and locks the shutter release button to prevent accidental triggering.
The film check window on the back cover is the only way to identify the type and speed of the loaded film.
Standard tripod socket on camera base.
Film Loading: auto-loading by built-in motor.
Film Rewinding: auto-rewind at end of roll. mid-roll rewind use button.
Frame Counter: additive type reset automatically when film is rewound.
Film Speed Range: With DX film, auto-setting ISO 100/200 and 400.
Lens: Konica 34mm f/4.4 (3 groups, 3 elements).
Viewfinder: Bright frame.
Shutter: Behind-the-lens type.
Shutter Speed: 1/125 sec. Shutter automatically locked when lens cover is closed.
Aperture: f/8 with ISO 100/200/400 1.5m-inf. in daylight. f/4.5 with ISO 100/200 1.5m-3.4m with flash. f/4.5with ISO 400 1.5m-6.8m with flash.
Flash: built-in electronic flash, charging time 3 sec.
LCD: battery icon shows condition power/no power. frame counter. flash ready icon, self-timer activated.
Auto Date Model: built-in digital calendar/ clock, LCD records date or time automatically, can be cancelled, date good until Dec. 31, 2020.
Battery: for camera 1X lithium 3v, CR123 or equivalent. for model with auto-date also use lithium 3v, CR2025
Battery: for frame counter memory is a CR2025 located under the grip side of the front cover that can only be accessed by peeling off the rubber grip removing all three screws from the front cover and gently unsnapping the front cover from the top part of the camera body.
Dimensions: 131.5 X 70 X 47.5mm (5.2 X 2.8 X 1.9in); auto date model 131.5mm X 70 X 52mm (5.2 X 2.8 X 2.0in)
Weight: 215g (7.5oz) w/o battery; auto date model 225g (7.9oz) w/o battery.
Write the second section of your page here.
Community content is available under
GFDL
unless otherwise noted.