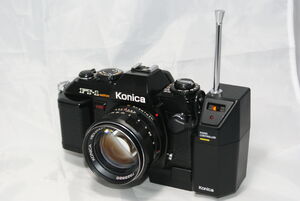 The Konica Radio Controller Set consists of a transmitter, a receiver, and a custom camera bracket. When the receiver is fitted to the accessory terminal connector on a Konica FS-1/FT-1 or (FC-1/FP-1 best used with optional Konica Auto Winder F), picture-taking may be remote-controlled at a distance about 230 ft. (70 m) on flat land. A number of cameras, as long as they are equipped with a receiver, may be simultaneously operated irrespective of the direction of the receiver or transmitter.
SpecificationsEdit
Radio wave used: crystal controlled 49.860 MHz FM
Frequency modulation: 7.5 KHz
Semiconductors used: 4 transistors, 3 diodes (transmitter); 11 transistors, 5 diodes (receiver)
Time lag: About 50ms between reception and camera shutter release
Number of channels: 1 (transmitter); 1 (receiver)
Antenna: 31.5 in. (80 cm) wire lead (transmitter); 11.8in. (30cm) five-stage rod (receiver)
Distance for transmission and reception: About 230 ft. (70 m) on clear flat land with new alkaline batteries
Power source: 2 AA alkaline batteries (transmitter); 2 AA alkaline batteries (receiver)
Hours in continuous operation in normal temperature: 20 hours (transmitter); 60 hours (receiver)
Write the first section of your page here.
Section heading
Edit
Write the second section of your page here.
Community content is available under
GFDL
unless otherwise noted.