Jurassic World: Dominion Dominates Fandom Wikis - The Loop
Play Sound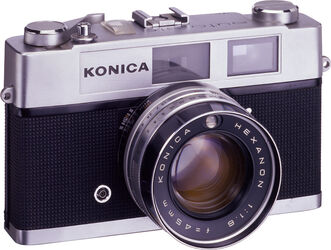 Konica's entry into the large aperture rangefinder wars of the mid to late 60's; the Auto S1.6 was a upgrade variant of the popular Auto S2 fitted with a more powerful and complex (7 elements in 5 groups) ƒ1.6 lens. The low production Auto S1.6 variant was offered for only two years (1968-1969) in North America making it a somewhat rare beast. 
The Auto S2 and its rarer Auto S1.6 sibling were clearly seminal cameras in their day. Big, beautiful and solid; the Auto S1.6 was built in the the days when build quality meant something and cameras were designed to last a lifetime.  Almost all metal construction and easily serviced, the Auto S1.6 provides robust feel. The only thing to spoil an otherwise classic solid metal camera is plastic used in the lens mount and battery cap.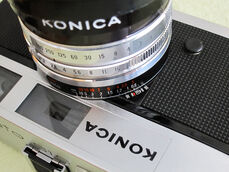 Although basically the same camera as the Auto S2, the entire lens assembly of the Auto S1.6 is unique as the lens thread to film distance is different, as is the meter. Additional lens complexity in the Auto S1.6 adds 20 grams to the camera's weight.
The question arises whether the better corrected lens of the Auto S1.6 with 7 elements in 5 groups provides improved image resolution compared with the 6 elements in 4 groups of the Auto S2? Difficult to speculate which lens would be superior without objective testing. Lens makers typically add lens elements to provide greater correction for distortion, chromatic aberration, or other characteristics, but sometimes the extra correction is required due to the design or the performance characteristics of the lens. A better corrected lens can also reduce contrast and sharpness due to additional reflective element surfaces. Suffice it to say that Hexanon lenses in either camera are exceptional by design and it's hard not to love the sharp lenses fitted to this pair of Konica rangefinders.
The Auto S1.6 is fitted with a standard hot shoe versus the 'cold shoe' of the Auto S2.  The collapsible standard lens shade of the Auto S2 is available as an accessory on the Auto S1.6 along with an exceedingly rare AS3 AUTO-UP close-up lens. (Both accessories could not be mounted simultaneously).
The Konica Auto S1.6 has a fantastic contrasty, sharp lens with deep color saturation and great bokeh as the last Konica fixed-lens rangefinder to allow fully manual exposure settings that can be used without battery power.
It is clear that Konica expended significant efforts to yield a marginally faster lens on the Auto S1.6 (1/3th of a stop faster), that in turn added significant cost. The Auto S1.6 commanded a ten dollar premium in 1969 that equates to $63 in 2012 dollars. It could be credibly argued that the addition of the hot shoe was the most tangible benefit the Auto S1.6 provided.
Links
[
]