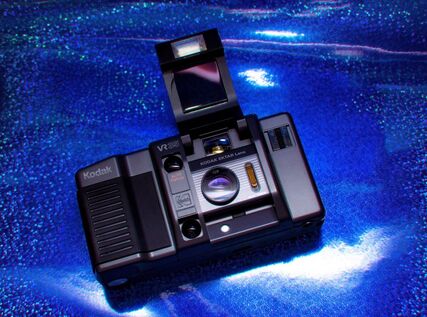 Kodak VR35 K14 is a fully automatic 35mm compact camera released in 1986 by Kodak. However, the camera was actually made in Japan and manufactured by Chinon based on the Chinon Auto 2001's design.
The Kodak K14 was launched as a complementary to the existing Kodak VR film and Kodak PhotoLife battery. The Kodak K14 is powered by a discontinued proprietary battery made by Kodak. Although, the battery chamber has additional connections to accommodate a common 9V battery. All Kodak VR35 K14 are was available with data-back with a price tag of $239.95 at launch. The camera was in production for 3 years from 1986 to 1989.
Type: 35mm compact infrared autofocus camera.
Film format: 35mm
Lens: 35mm f2.8, aspheric, 4-element all-glass lens.
Viewfinder: Bright frame with AF frame, parallax marks, focus distance indicators.
Shutter: Programmed electronic shutter with automatic lock system at low voltage.
Exposure meter: Fully automatic.
Automatic DX coding.
Focusing: Automatic infrared, pre-focus possible.
Focusing range: 3ft (1m) to infinity. Built-in minimum focusing distance warning.
Film loading: Automatic winding and rewinding.
Self-timer: 10 seconds, cancelable.
Flash unit: Built in automatic firing, override and fill in possible.
Flash Recycling time: Approx. 1.7 sec.
Effective flash distance: 3-15 ft (1-4.6m) ISO 100. 3-20ft (1.6.1m) ISO200. 3-30ft (1-9.1m) ISO 400-1000.
Power source: One 9-volt Ultralife lithium power pack. A 9-volt alkaline battery can be used in an emergency. but with reduced battery life.
Date-back: Powered by one 3-volt battery/
Dimensions: 141.5 x 73 x 50mm (L x H x W)
Weight: Approximately 12 ounces.
Community content is available under
GFDL
unless otherwise noted.