Retina Ib is a 35mm film folding viewfinder camera made by Kodak AG and produced between 1954-57 with quantity about 161,000 units. [1]
The Retina Ib was introduced at the Photokina 1954. It had the new fast Synchro-Compur shutter with light-value setting mode. That means that several appropriate aperture/shutter-speed settings easily could be found when the actual light value was preset. It lacks a rangefinder. Retina Ib (and the later IB models) are equipped with the sharp Schneider-Kreuznach Xenar 2.8/50 lens. The front element can be removed just as with the IIc/C and IIIc/C models, but the reason for that is that the camera used the same bayonet mount for the front element to simplify production. The Ib/IB can't use the wide angle and tele accessory lenses.[2]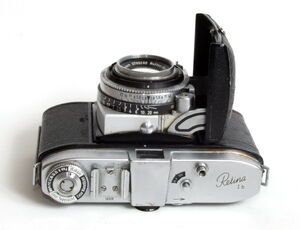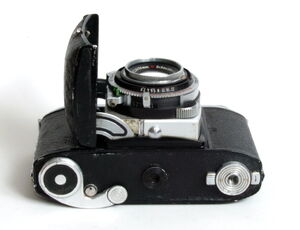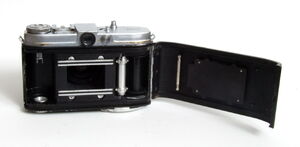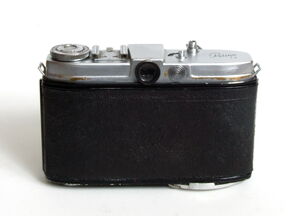 Specifications
Edit
Engraving on the top plate: Retina Ib
Lens: Schneider-Kreuznach Retina-Xenar 50mm f/2.8 filter slip-on

Aperture: up to f/22 setting: coupled with speeds ring according to Exposure Value system, EV 3-18; manual possible with a lever and scale under the lens
Focus range: 0.9-20m +inf

Focusing: manual helicoid focusing, guess the distance, by a thumb handle beneath the lens-shutter barrel, with distance and DOF scales (zone focusing)
Shutter: Synchro-Compur; speeds: 1-1/500 +B setting: ring and scale on the lens-shutter barrel, coupled with apertures according to Exposure Value system
Shutter release: on the top plate w/cable release socket
Cocking lever: also winds the film, short stroke, on the bottom plate
Frame counter: additive type, auto-reset, window on the top plate
Viewfinder: reverse telescopic finder with parallax correction frame
Re-wind lever knob: on the top-plate
Re-wind release: a button adjacent to the winder
Front cover: opens by a small knob on it; closing: press the knobs on the struts, when focus on infinity
Flash PC socket: on the lens-shutter, setting for x and M with a green lever on V X M dial
Cold-shoe
Memory dial: on the rewind knob
Self-timer: set to V on V X M dial
Back cover: hinged, opens by a lever and a small knob beneath the tripod socket
Embossings on front cover Kodak and on the back cover Retina camera
Tripod socket: 1/4"
Strap lugs
Body: metal; Weight: 584g
Notes and references
Edit
Community content is available under
GFDL
unless otherwise noted.