The
Kodak Monitors
were robust
folding
roll film cameras manufactured by
Eastman Kodak
from 1939 to 1948. They were available in two different models (both introduced in October of 1939), one using
620 roll film
and the other
616 roll film
. They were called the
Monitor Six-20
and the
Monitor Six-16
. With the exception of the very rare and fragile
Kodak Super Six-20
, the Monitors are arguably the most sophisticated American Kodak folders of the 1930s and 1940s. They are solid and very well crafted.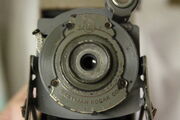 The Monitor is a viewfinder camera; it lacks a rangefinder. The viewfinder is a surprisingly pleasant to use pop-up unit on the center of the cameras top plate. It has a parallax adjustment that can be varied from infinity to 4 feet. Surprisingly, the cameras also have the older style waist level reflecting finder common on most older Kodak folding cameras.
All Kodak Monitors feature automatic film spacing, double exposure prevention, and top-plate-mounted accessory shoes and shutter releases. A top-plate-mounted depth of field dial was present on the models featuring the Anastigmat Special lens. The all metal bodies are covered with embossed leather. Flash synchronization was an option from 1946 on.
According to Kodak literature
[1]
, the Monitor Six-16 originally sold for $48.50 USD and the Monitor Six-20 for $66.00 USD ($707 and $960 USD in 2007). Presumably, the Six-20 price was for the more expensive lens (the Anastigmat Special) as excepting the dimensional differences for the two film formats, the cameras are identical.
The Kodak Vigilant series of cameras used the same basic body and folding mechanisms with completely manual film advance, a simplified top plate, and a much wider selection of lenses and shutters.
Each of the Monitor models came with a choice of lenses. All are in a front-element-focusing mount.
Kodak Anastigmat f/4.5 f=103 or 105mm (Six-20) or 126mm (Six-16) - This is believed to be a four element Tessar type
Kodak Anastigmat Special f/4.5 f=101mm (Six-20) or 127mm (Six-16) - This is a four element Tessar type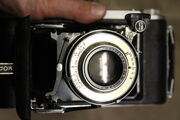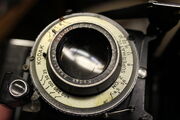 ==Shutter==
Kodamatic or Flash Kodamatic (Anastigmat lens)
Supermatic or Flash Supermatic (Anastigmat Special lens)
References
Edit
↑ History of Kodak Cameras at www.kodak.com