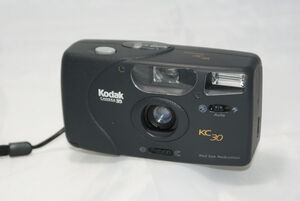 The Kodak KC 30 is a plastic body compact 35mm film camera with motor-drive and a built-in flash. The sliding button under the lens operates a built-in lens cover and also locks/unlocks the shutter release button and switches camera electronic functions on/off.
SpecificationsEdit
Type: Point and shoot
Films: 35mm ISO 100/200/400 with DX coding
Film advance: motor-drive
Film rewind: Motor-driven with rewind switch, mid-roll rewind possible
Lens: 29mm, 3-element hybrid
Viewfinder: Reverse-Galilean
Aperture: f/5.6
Focusing: Fixed
Focusing Range: Daylight- 4 ft. (1.2m) to infinity
Flash: Built-in electronic flash with red-eye reduction, flash automatically turns on at low light levels
Flash Guide Number: 7.5 m ISO 100/21°
Flash recycle time: Approximately 5 sec. with fresh batteries
Power source: 2 AA alkaline batteries
Dimensions: 4.7 X 2.6 X 1.7 in. (120.4 X 65.2 X 43.7 mm)
Weight: 5.7 oz. (162 g)
Section heading
Edit
Write the second section of your page here.
Community content is available under
GFDL
unless otherwise noted.