Jurassic World: Dominion Dominates Fandom Wikis - The Loop
Play Sound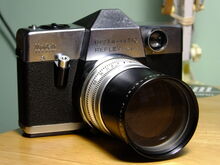 The Kodak Instamatic Reflex was an SLR made in Germany by Kodak AG for 126 Cartridge film. It was introduced in 1968, and withdrawn in 1974 in the US & UK, and in 1970 elsewhere. It was the top model of the Instamatic range, and considerably more sophisticated than most.
Description
[
]
The Reflex had aperture-priority automatic exposure via a CdS light meter and one of the first electronic shutters - a Compur Electronic. The metering system sensed the film speed from the cartridge, which could indicate 64, 80, 125 or 160 ASA. The lenses were interchangeable, having a Retina S-Series mount, so it could use the existing Retina lenses. The viewfinder had a display of the automatically-selected shutter speed, and a focusing screen with a split-image rangefinder. Flash was provided by Flashcubes - with automatic exposure, when using the 45/2.8 lens - or an accessory flashgun connected via a PC socket beside the Flashcube mount.
The production code for the Instamatic Reflex was Typ 062. Both Chrome and Black versions with and without accessory shoes were produced through the production series.
Reference: Instamatic Reflex instruction manual
Specification
[
]
Country of Origin: Germany
Introduced: 1968
Withdrawn: 1970 (1974 in US & UK)
Shutter: Compur-Electronic 20s - 1/500s; flash synch at 1/30s
Lens: could be supplied body only, or with either a Schneider-Kreuznach Xenar 45mm/f2.8 or Xenon 50mm/f1.9; Lenses from 28 to 200mm were available.
---
There were only a few other 126-format SLRs, for example, the Contaflex 126.

Links
[
]