Disambiguation: Graflex means ...
When a court had ordered that Kodak had to sell its Folmer & Schwing division no buyers appeared. A new company was founded which was named Folmer Graflex Corporation in 1928. In 1945 it was renamed to Graflex Inc. . From the days of depression of the 1930s to 1957 the company grew from 100 to 760 employees. It made successfully sophisticated SLRs and press cameras as well as TLRs and several 35mm cameras, and some special-purpose cameras, e.g. for air reconnaissance.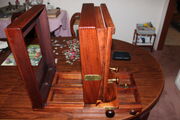 No. 10A Century Studio Camera
Crown View
The K20, and perhaps others, were designed by Fairchild, and so may also be known as Fairchild K20.
Folmer Graflex K20 Aircraft Camera
Folmer Graflex K21 Aircraft Camera
Folmer Graflex K25 Aircraft Camera
Community content is available under
GFDL
unless otherwise noted.