Goerz Manufoc-Tenax (Manufok in German) is a series of folding bed plate medium format to large format film camera, manufactured by Optische Anstalt C.P. Goerz AG. Friedenau, Berlin, Germany and produced between c.1908-c.1926.[1]
Many variations were made over the production duration. "Manufoc" stands for manual focusing to differantiate it from Autofoc-Tenax which was auto-focusing meaning self-erecting.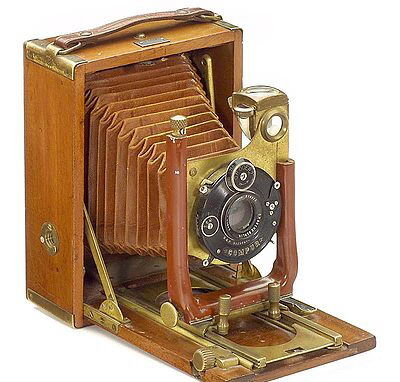 Body: leather covered aluminium
Bellows: double extension, leather
With Rack and pinion adjustment
With accurate focusing scale
Formats: 6.5x9, 9x12, 9x12 Tropical,9x14, 10x15, 13x18 cm.
There were many lens/shutter combinations:
After 1921, new models have different struts and new lens pull-out system with the lens standard staying in the tracks when the camera closed. Marked "Goerz DRP" on front of the lens standard. A similar but more simple camera is the Taro-Tenax.
Community content is available under
GFDL
unless otherwise noted.