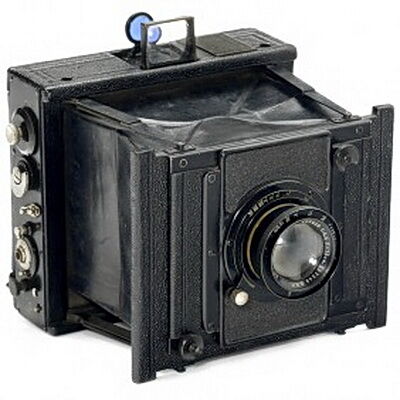 Goerz-Anschütz Ango is a series of strut folding plate film medium format to large format camera manufactured by Goerz, and produced between c.1896-1922. Camera introduced in 1896 as a Anschütz camera.
At early times, Goerz's specialty were cameras with the fast rouleau shutter that the company had licensed exclusively from its inventor Ottomar Anschütz from Lissa in Posen (at that time a province of Germany).
A long running series of such cameras was named after 1905 as Ango, a word derivation for Anschütz and Goerz with some improvements.
Typical elements of these cameras were a set of controls at one side of the camera body since early focal plane shutters needed more than one control element to set the speed. A combination of slit width setting and rouleau speed setting gave the shutter speed. Until 1905 the slit width had to be set inside the camera. On the opposite side of the camera was its grip.
Model list is as to McKeown's [1] and Historic Cameras [2]
(First six in a separate page)
Formats: more common 9x12, 10x15, 13x18cm
Shutter: Ottomar Anschütz rouleau shutter as a focal plane shutter
Early models are identified by a simplified shutter mechanism, changed in 1905
The later focal plane shutter was self-capping to ensure improper exposure of the plate, speeds 5-1/1200
Viewfinder: collapsible optical Newton finder, w/peep-hole
Late models have a smaller peep hole view finder, changed in 1906
Characteristic type of struts
Goerz-Anschutz Ango c.1896, an early model image by Süleyman Demir (Image rights)
Goerz-Anschütz Ango High-Speed
[
edit
|
edit source
]
It was still marketed in 1922
Plate sizes 9x12, 10x13, 10x15 and 13x18, with
Dogmar f/4.5 lens
Goerz-Anschütz Ango High-Speed

image by Uwe Kulick (Image rights)
Goerz-Anschütz Ango Luxus image by Süleyman Demir (Image rights)
Goerz-Anschütz Klappkamera
[
edit
|
edit source
]
Goerz-Anschütz Klappkamera image by Süleyman Demir (Image rights)
This camera is a very early model of Goerz-Anschütz folding plate cameras, introduced 1896, by 1911 this camera was referred as Ango with improvments
The model with the old Focal plane shutter remained in production as Anschütz Klapp Kamera Model I until 1921
Mainly 6x9, 9x12, 10x13, 18x24cm formats
Community content is available under
GFDL
unless otherwise noted.