The Gilbert is an unconventional box camera with polished metal front and back plates and "crocodile" - sometimes described as "lizard skin" - covering to the sides. The viewfinder is attached to the lens barrel, which rotates through 90 degress to allow portrait and landscape format pictures. Made in the UK, it was introduced in 1953 and distributed by R. F. Hunter.
The Gilbert takes 6×9cm images on 120 film. There are two apertures, and two speeds, operated by sliders which lift out of the top edge of the front. The shutter has a double-exposure prevention lock, displaying a red signal in the viewfinder when winding is required.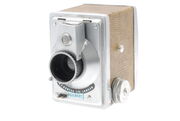 Quote from a 1953 advertisement: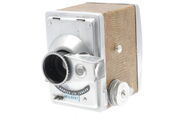 "The FAMILY HOLIDAY camera - GILBERT. As suitable for Junior as for father. Success with simplicity. Has features never before incorporated in such a low-priced camera. Fine quality lens, two-speed shutter, no double exposures, all-metal body, 8 pictures on standard 120 roll film. Crocodile and polished chrome finish. British and best." (Price "Only £3-11s-11d Tax paid)
Lens: 105mm f/11; two apertures
Shutter: two speeds, with flash sync
Community content is available under
GFDL
unless otherwise noted.