Fisher-Price Digital
by Ramen Junkie
Fisher-Price is a major manufacturer of toys for children. Occasionally it has ventured into partnerships with manufacturers, including Kodak, in order to make fully-functional cameras specifically designed for children (larger grip surfaces, viewfinders used by both eyes etc). There have been several brightly coloured models for film and digital formats. Unfortunately, some of the models have generic names and can only be distinguished by their colour and design.
Fisher-Price Perfect Shot™ 35mm (1997-2000)
Fisher-Price Perfect Shot (2000-2006)
​Fisher-Price 35mm

body: red/black/yellow; binocular viewfinder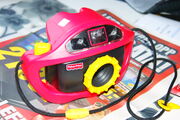 Fisher-Price Kodak
by Marty4650
Fisher-Price Camera (1984-87)
Perfect Shot
by marlinsgirl93
Fisher-Price Perfect Shot Blue (1994-7)
Fisher-Price Perfect Shot Pink (1995)
Thermal Paper
Edit
Creative Effects Camera 36 exposures. (1996-2001)[6]
Community content is available under
GFDL
unless otherwise noted.