Felicetta BL 35 is a 35mm film viewfinder camera manufactured by Vredeborch GmbH, Nordenham, Germany and produced in mid-1960s.
The Felinette/Felicette/Felicetta series were 35mm film viewfinder cameras made by Vredeborch, introduced in 1959. Felinette name was changed in 1960 as Felicette, and renamed again as Felicetta in 1965.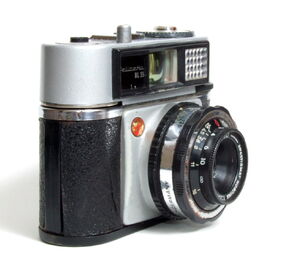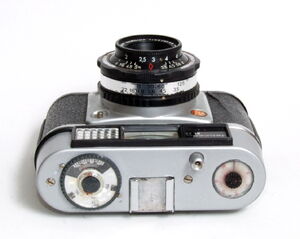 Lens: Nordinar 45mm f/3,5 filter thread: 44mm

Aperture: f/3,5 – f/22
Focus range: 1.2-10m +inf

Focusing: manual, guess the distance
Shutter: central leaf shutter; speeds: 1/30-1/60-1/125 +B
Shutter release: on the top plate, w/ cable release socket, double exposure prevention
Cocking lever: also winds the film, long stroke
Frame counter: window on the top plate, manual reset, not works wo/ film in the camera
Viewfinder: reverse telescopic finder, with bright frame lines
Exposure meter: uncoupled Selenium cell exposure meter
Film speed range: (?); setting: dial on the top plate
Exposure setting: readout window in the ASA setting dial, needle shows the required aperture
Re-wind: by a thumb wheel on the left of the camera
Re-wind release: on the back of the top plate, small black knob
Flash PC socket: two, on the front plate, for X and M
Cold-shoe
Back cover: removable with the bottom plate, opens by a sliding knob on the bottom plate
Film loading: take up spool is special, takes the film into the drum
Tripod socket: ¼"
Strap lugs
Body: light metal; Weight: 387g
Serial no. in the camera
Community content is available under
GFDL
unless otherwise noted.